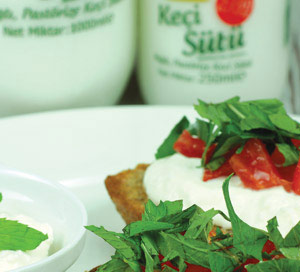 Goat's Milk Ricotta
Ingredients: 
2 liters of Baltali Daily Pasteurized Goat Milk
2 tbs ACV (apple cider vinegar) (or 200gr Baltali Goat Kefir)
a pinch of salt
cheesecloth lined colander (sanitized)
Instructions: 
In a stainless steel pot, while stirring, slowly heat 2 liters of Baltali Daily Pasteurized Goat Milk to 90 degrees Celsius. Remove the goat milk from heat and while slowly stirring, add 2 tbs ACV to the heated goat milk. Instead of ACV, you can use Baltali Goat Kefir in the same manner as ACV, slowly adding to the heated milk while stirring.  Pea sized flakes of curd should start to separate and float to the surface and the remaining liquid, the whey, should gradually become lemony in color and translucent. If this doesn't happen, continue to heat to 96 degrees Celsius. If that doesn't work, you can always add a tad more ACV (Baltali Goat Kefir), but not too much or your cheese will take on its flavor.  Let the curds rest for a minute and then scoop into your lined colander.  After draining for about half an hour, salt to taste and allow it to drain a minute more before eating or storing.
Don't throw away the remaining whey since you can always use it when cooking soups.
Bon appétit!