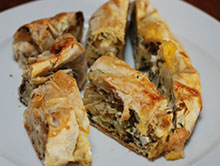 Goat Cheese Herbs Pie
Prep Time: 10 minutes
Total Time: 1 hour,
Serves: 8
Ingredients:
4-5 round pieces of thin rolled dough (yufka)
500 gr. Baltali Goat Cottage Cheese (or Baltali Goat Seferihisar Cheese)
400gr. flat-leaf parsley, most of the stalk discarded, very finely chopped
250 gr. dill, very finely chopped
8-10 leaves of fresh mint, very finely chopped
100 gr. of fresh onion, very finely chopped
1 teaspoon of salt
1 teaspoon of black pepper
1 pinch of red pepper


Ingredients for the liquid mixture:
1 glass of Baltali Goat Milk (pasteurized or UHT)
½ glass of mineral water
2 eggs
½ package of Baltali Goat Butter
A pinch of salt
Directions:
1. Let's start from the easiest part. Put all the ingredients for the liquid mixture in a bowl and mix them together while stirring.
2. The rest is just as easy. Mix the chopped greens with Baltali Cottage Cheese in another bowl.
3. Start heating the oven up to 180 degrees.
3. Roll the dough on a well-floured board and spread the liquid mixture across using a kitchen brush. Then start spreading the greens and the cheese mixture. Start rolling the dough wrapping the contents from one side all the way up and cut the rolled dough to two pieces.
4. Place all the rolled and filled dough pieces on a tray greased with Baltali Goat Butter.
5. Spread the remaining liquid mixture on top of the dough placed on the tray again using a kitchen brush.
6. Place the tray into the pre-heated oven (180 degrees) and cook it for about 40-45 minutes. If you really like it crisp, cook for another 3-4 minutes turning on the upper grill of the oven.
Just a reminder; it goes delicious together with Baltali Goat Kefir!
Enjoy with your loved ones!